Art classes September 2020 - March 2021 Zoom!!!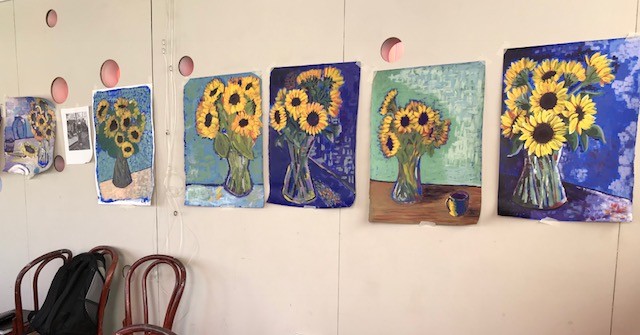 The Colour Factor has been the home of my courses since 2016 and I have had to quickly adapted to reach out to my students during lockdown some of who were isolating. I had to quickly adapt and introduced a live teaching session via Zoom.
The courses offer a rich learning experience with demonstrations through to historical context. From September I will combine teaching up to 3 students at The Colour Factory and live teaching via Zoom to students in their homes. Those attending the art class in person will have all materials provided and this is reflected in the price of the course. Those Zooming will be given a materials list and a weekly topic.
For more information and booking please email rosieparmley@yahoo.co.uk or telephone her on 07960182906.
Tuesday Evening "Painting with Abstraction", 7-9pm 8 week course (16 hours) in a class of three £200 or a Zoom class £135.
15th September -27th October 2020, 10th November -12 January 2021, 19th January – 9th March.
Each week you will be introduced to an abstract artist and led step by step to partake in the artist's techniques in a fun exploratory class. Literally you become an abstract painter for the night! Some of the artists explored are: Rose and Roger Hilton, Jackson Pollock, Grace Hartigan, Gerhard Richter, Perle Fine, Howard Hodgkin, Victor Pasmore and Joan Mitchell.
Thursday Complete Beginner's Drawing & Painting, 10-1pm 6 week course (18 hours) in a class of three or £190 Zoom class £154. 17th September – 22nd October, 5th November – 10th December, 7th January -11 February 2021.
This is a gentle course where you will get in touch with your creative side through step by step instructions. Over the year the topics covered are mark-making, drawing from observation, perspective, colour theory, printmaking, portraiture, the still life and plein-air. This class will build confidence and the ability to observe and record accurately.
Friday Advanced Drawing & Painting, 10-1pm/2-5pm 6 week course (18 hours) in a class of three £190 or Zoom class £154).
18th September – 23rd October, 6th November -11 December, 8th January – 12th February 2021.
This course is designed to enrich the skills of students through closely studying the process of masters e.g. Henri Matisse, Paul Cezanne, David Hockney, Ivon Hitchens. Along these are exercises in drawing and painting. This is a unique opportunity to explore avenues in painting and would be ideal for the person who has a creative block and needs freeing up. Some experience is required.
Rosie was very quick to fill the art class void created by lockdown with tailor made zoom lessons.
She clearly put a lot of thought and effort into providing an effective teaching space in her home, and mastering the technical issues needed in order to make everything work effectively.
She has been able to produce a series of vibrant and challenging interactive classes. It has been a joy to have the class together, sharing and discussing their work and moving forward as a group. Thank you Rosie.
I thought the Zoom classes went very well and thank you for all the effort you put into them. They were very well-structured and easy to follow, with an interesting and inspiring selection of artists to learn from. Have a good summer - take a rest sometime or you'll burn yourself out!
Best wishes
Tony
"I had never heard of doing art classes online and when lockdown came thought I would have to miss my regular Thursday class which I really enjoy. So I was very pleased when Rosie said she would be offering classes at our normal time on Zoom. Rosie has a good grasp of how Zoom works, with lots of presentations on screen share and we can easily show our work to Rosie and each other on our screens or via the WhatsApp group Rosie set up. We have had very few tech problems with the Zoom class but on occasions when individual members of the group has struggled with their own tech, Rosie has gone out of her way to help them. Working at home has had the added bonus of encouraging me to set up my own little art area and stock up with the equipment and materials that I like.
Thanks Rosie."
Ann